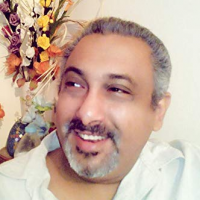 Sherif Guirguis
Science Fiction, Fantasy, Teen & Young Adult
An Egyptian by birth, cosmopolitan by convection, Sherif started writing at the age of eight, and he didn't stop since then. He always thought that our world needed a dash of magic, and this is what he always included in his writings.
Originally a medical doctor, but he decided to leave medicine behind to pursue his passion for the word since then he wrote three books.
The chronicles of Agartha: Book 1 - The Green boy, is his third book, his first was "The Door", a magical realism thriller, and the "The Trinity's Dream", a contemporary fantasy about the end of days.
He is happily married and has two daughters, whom he adores.
Video
The Green Boy Trailer 2
And what would humans be without love? RARE, said Death.
Terry Pratchett
In ancient times cats were worshipped as gods; they have not forgotten this.
Terry Pratchett
So, please, oh please, we beg, we pray, go throw your TV set away, and in its place you can install, a lovely bookcase on the wall.
Roald Dahl
Five exclamation marks, the sure sign of an insane mind.
Terry Pratchett
But whats worth more than gold

Practically everything. You for example. Gold is heavy. Your weight in gold is not very much gold at all. Arent you worth more than that
Terry Pratchett